Catholic Committee Meeting Dates in 2017
March 22nd, 7:00 - 8:00, Our Lady of Hope Church Rectory, Middle Village Queens NY. 11370

May 24th, 7:00 - 8:00 (Brooklyn Location to be determined)

---
Youth Religious Emblem Boards of Review - Also application/ fee submission dates (Youth awards are $15.00 each)

Brooklyn - Immaculate Heart of Mary, Fort Hamilton Parkway, Marian Center, Rectory Basement, Monday March 14th, 7:00 -9:00 PM
Queens - Our Lady of Hope - Middle Village, School Cafeteria, Wednesday, March 16, 7:00 - 9:00 PM
---
YOUTH AWARDS CONVOCATION
Our Lady of Hope Church, Middle Village, Queens, N.Y.
61-27 71st Street, Middle Village, Queens 11379

Sunday, April 30th, 2:00 -4:00 PM
Check-in 2:00 at Parking Lot (Weather Permitting)
Processon with Flags, Banners, Award Receipients 2:30
Awards Convocation 2:45 - 3:30
Reception for Clergy, Awardees, Families, Leaders, Emblem Counselors, CCOS members 3:30-4:00 School Cafeteria
---
Catholic Scout Retreat
"Merciful like the Father"
November 4 -6, 2016
Alpine Scout Camp, Alpine N.J.
A beautiful weekend and day of reflection on Divine Mercy
Great conference facilities and meal catering by the Greater N.Y. Councils BSA.

Thanks to all the Boy And Girl Scouts who attended, with their leaders and parents.
Great Rosary Hike to the Woman Federation Memorial on the Palisade Cliffs where the view of Fall Trees and the Hudson River was splendid. Many youth and adults went to Confession. Celebration of Mass always a Retreat highlight.

The Scouts evaluation were all positive, including the evening Rosary and the Ice Cream social.

Also special thnks to our Chaplains and Deacons,Committee Members who gave up their valuable time to make our Retreat possible and a success.

And Finally to the members of the Diocese Of Brooklyn, Catholic Committee on Scouting who planned and conducted the retreat. Retreat Emblems have arrived an are being mailed to all who attended the retreat.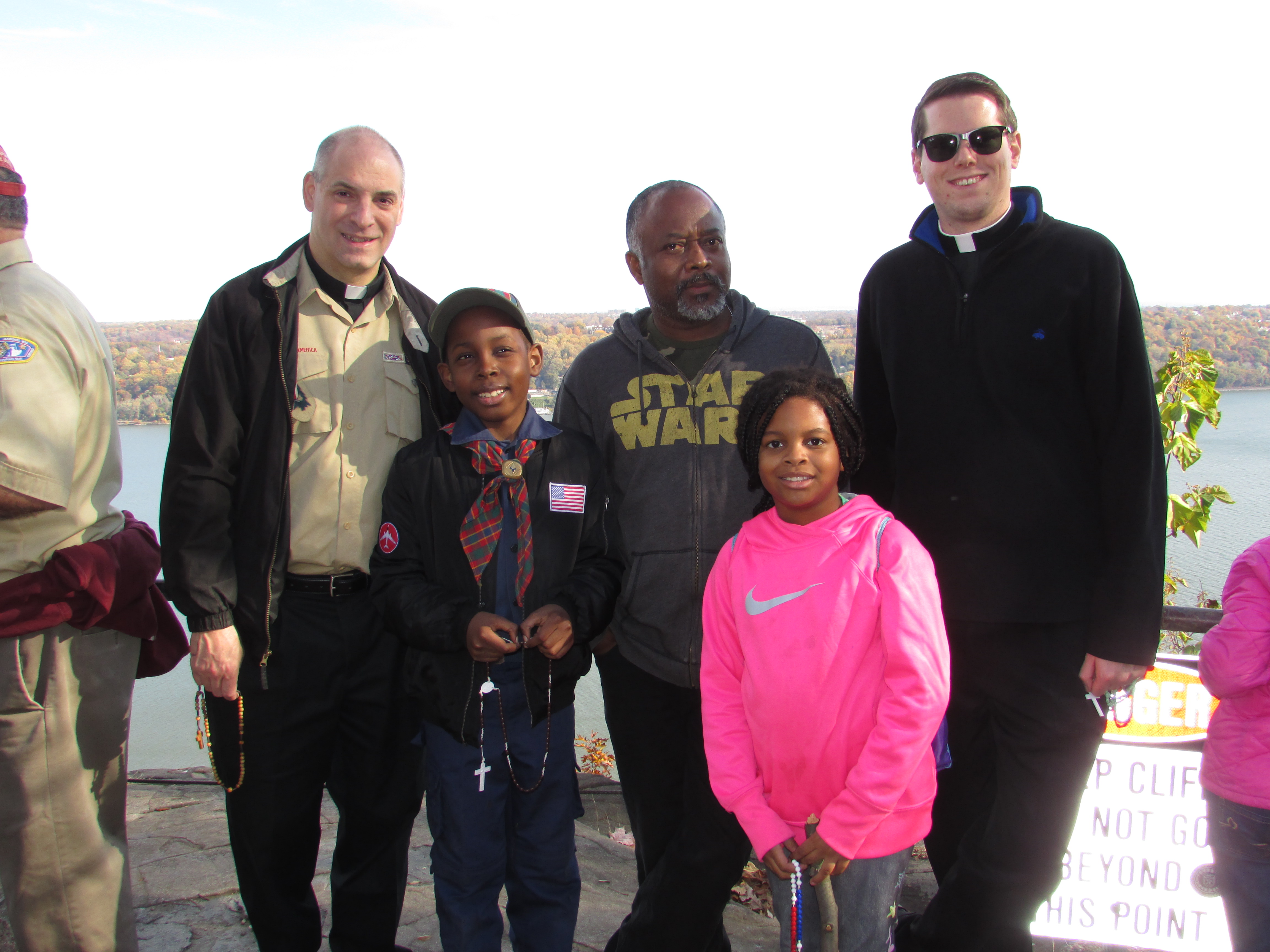 Date and location of 2017 Scout Retreat (TBD)

See the 2016 Retreat Photo Gallery
---
This website is a social media site of the Catholic Committee on Scouting of the Diocese of Brooklyn. The views and information shared on this site do not have the official approval of the Girl Scout Council of Greater New York, or the Greater N.Y. Councils of the Boy Scouts of America. This website is linked to the National Catholic Committee on Scouting web sites.