Bishop Nicholas DiMarzio's
Third Annual Visit to Ten Mile River Scout Camp and Mass
with Campers and Camp Staff at The Our Lady of the Lake Catholic Chapel, in Camp Keowa, occured on Tuesday, July 12, 2016, at 1:00 PM. Bishop DiMarzio arrived at camp in late morning, ate a luncheon meal with Campers and Staff, celebrated mass at the lakeside chapel, and was given a tour of the Picture Window on the Indian Cliffs overlooking a portion of the Scenic Upper Delaware National Recreation Area, by Reservation and Camping staff.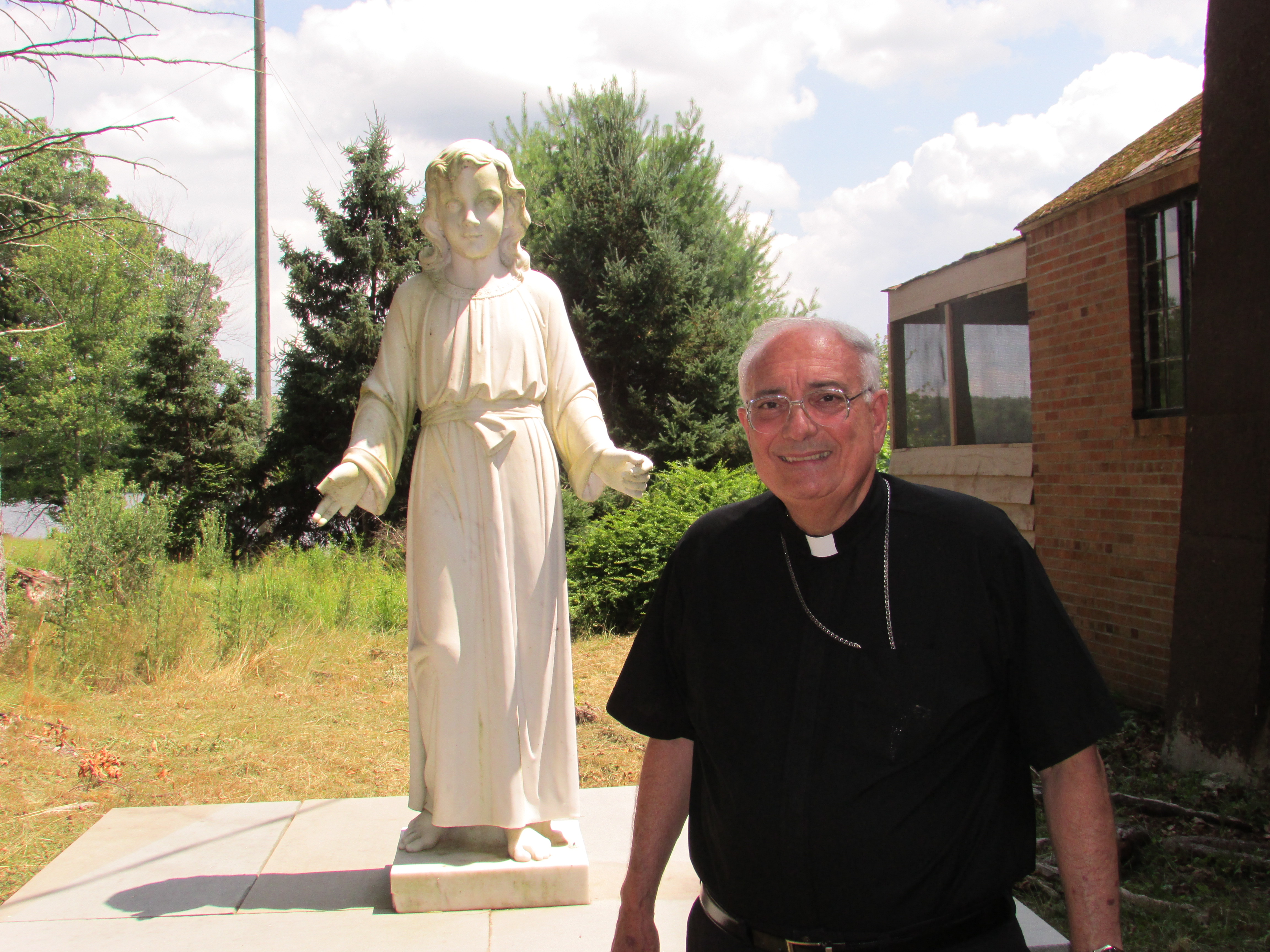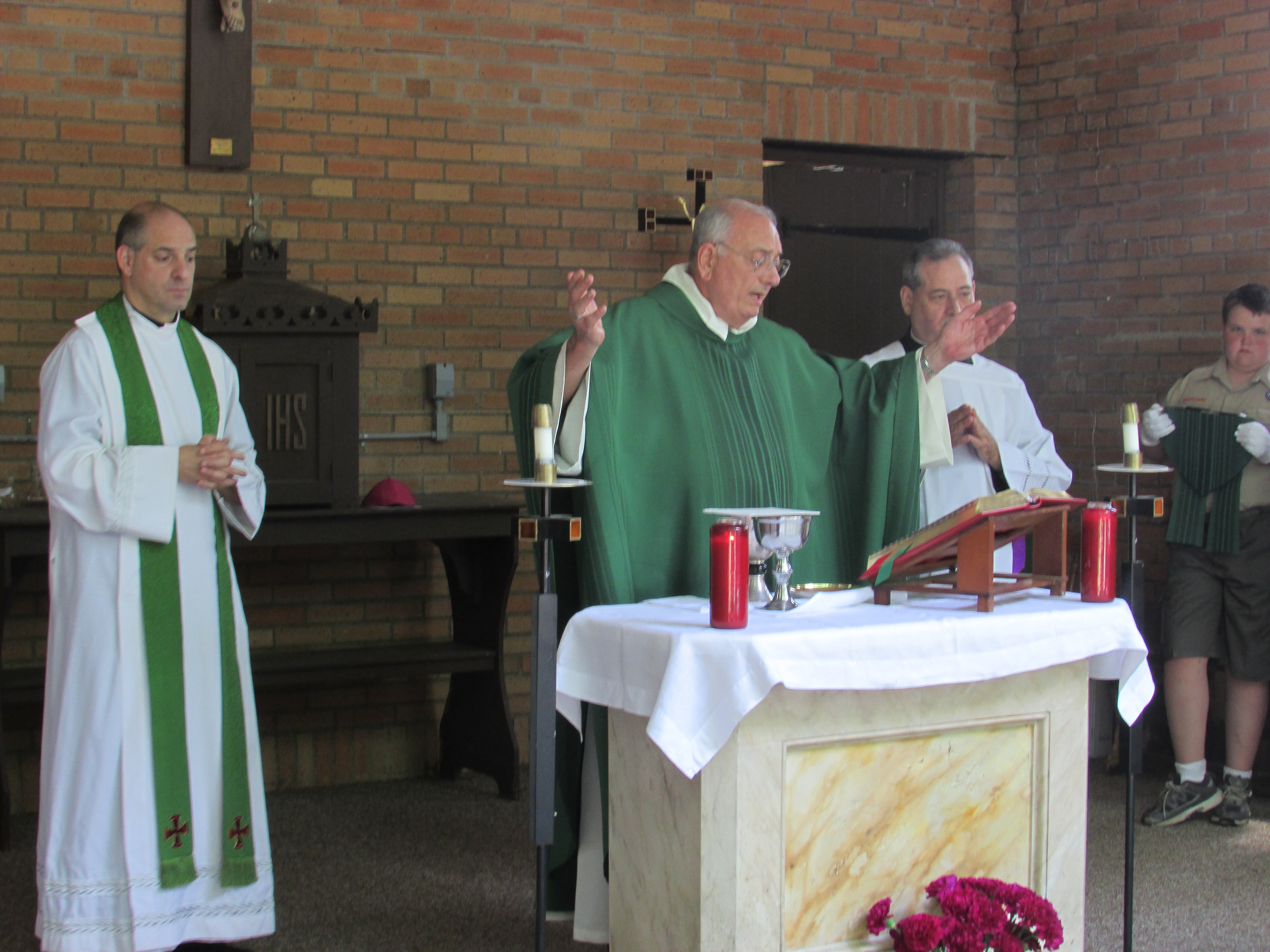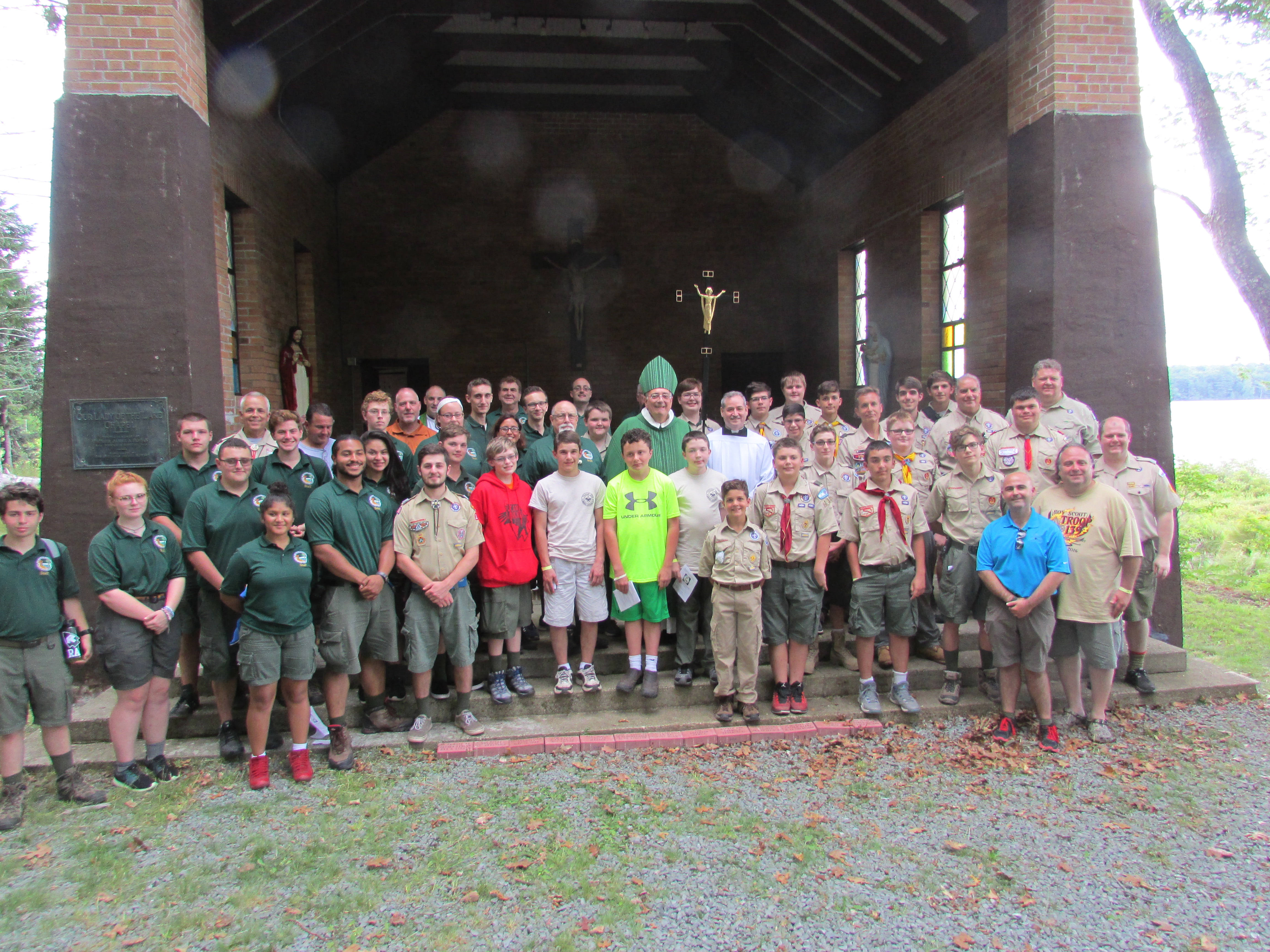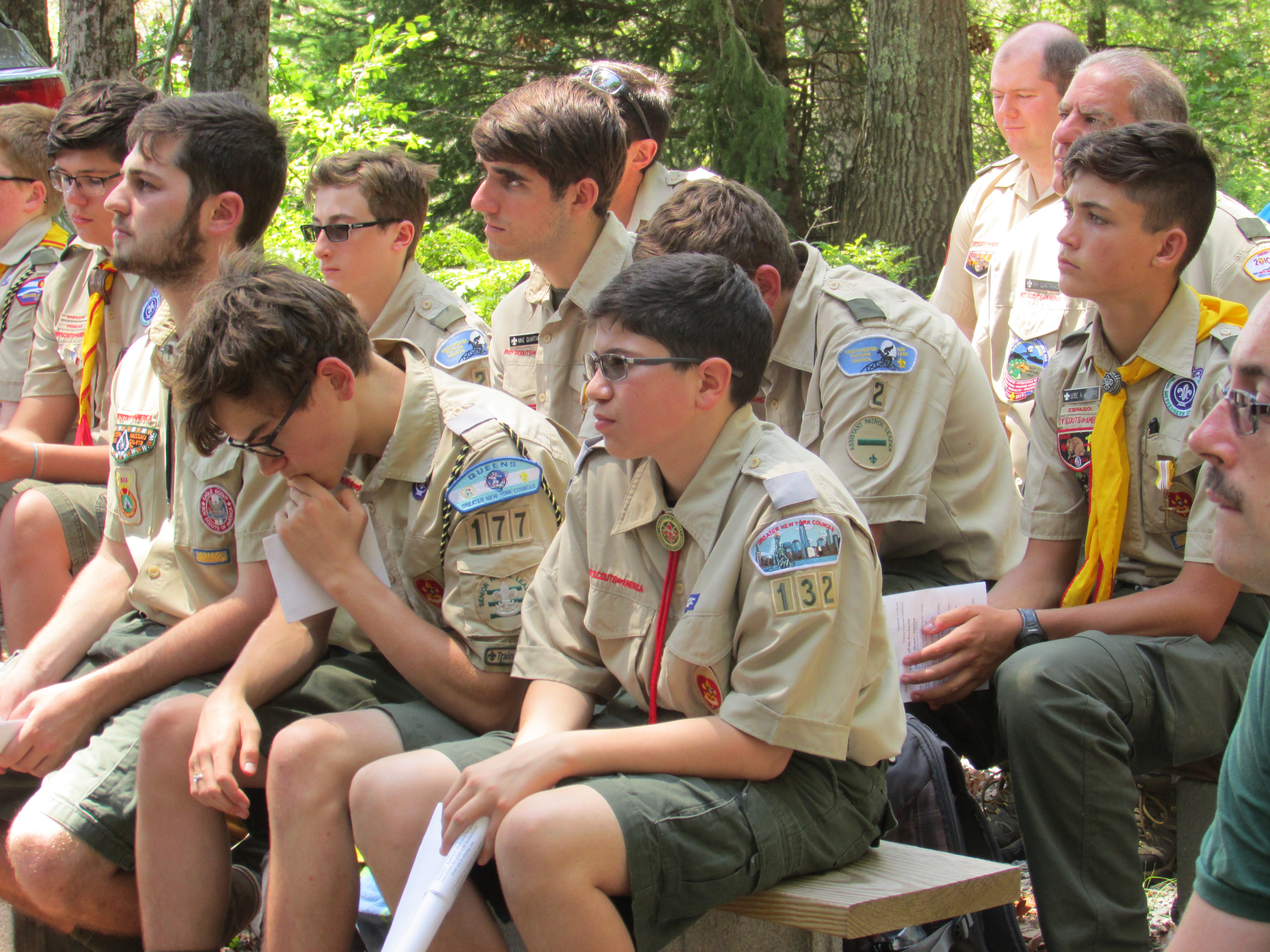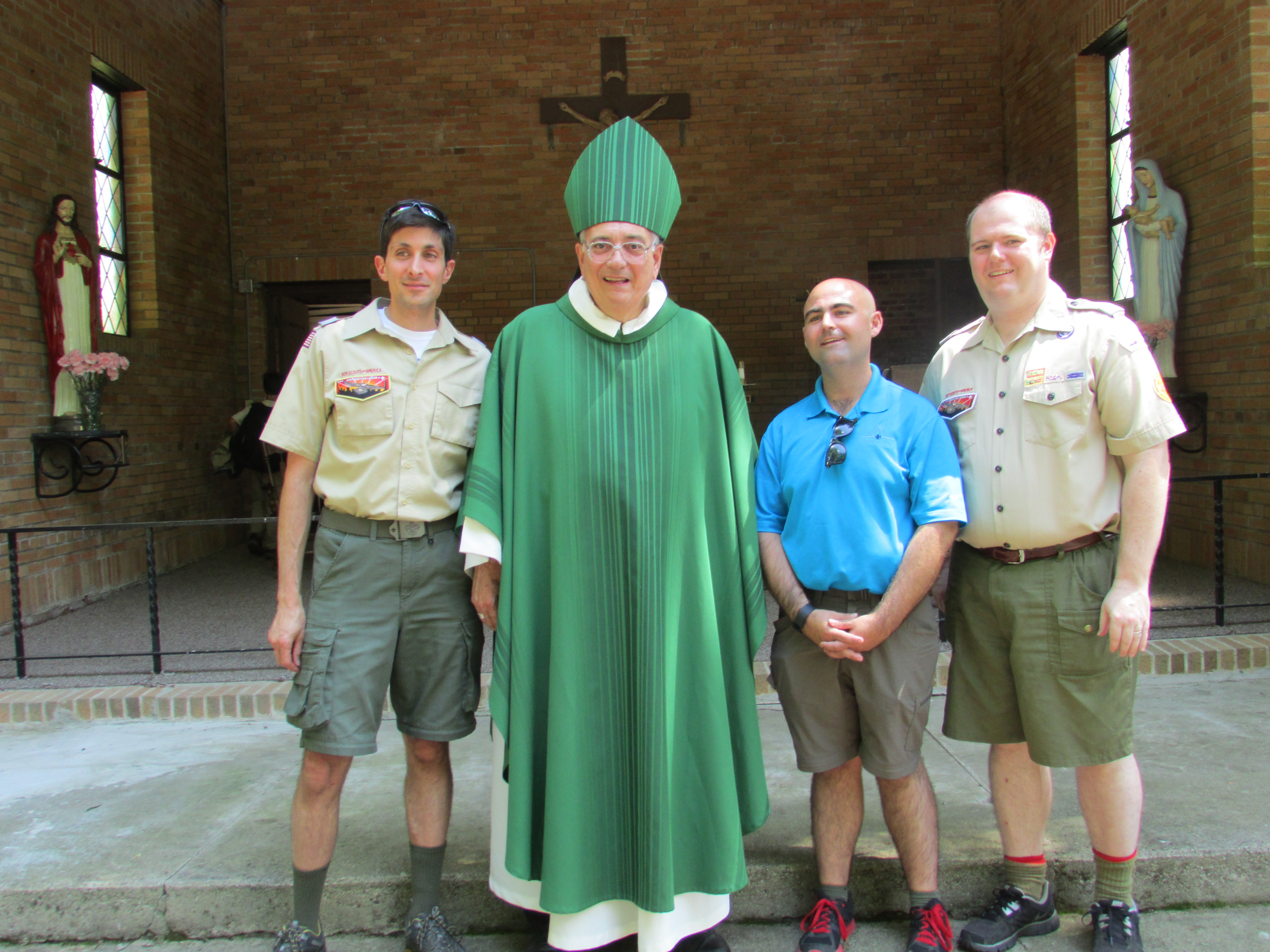 Diocese Scout Awards Convocation
If you have Girl, Cub, or Boy scouts who earned religious emblems but who did not attend the Awards Convocation on April 10th, 2016 at St. Francis Of Paola Church in Brooklyn, Please contact our Religious Emblem Awards Chairman Chris Dono or our Committee Chairman Paul Stanton who will make an arrangement for these youth to receive their Religious Emblems.

Catholic Scout Leadership Development
At our November 2016 Retreat, at Camp Alpine, we will again present a day long Catholic Scouter Leadership Development Training. We presented this training on our Retreat in November 2015 and received most positive feedback. See our website tool bar for the Retreat Reservation form. I would like to commend those who participated and who led our Diocese of Brooklyn CCOS Catholic Scout leadership development.
Instructors: Robert Brown, CCOS, Gerard Nadal, T37 S.I.;

Participants: Michelle Sargent, Crew 312; Vincent Mangual, Pack, Troop & Crew 446;
Rosanne Bruschi, Troop 446; Victoria Rabanal, Crew 446; Walter Rabanal, Crew 446;
Joe Schreder, Troop 182; Crystal Bueno, Pack 187; Yvette M. Sladky, Troop 446; Victoria J. Sladky, Troop 2078 G.S.; James Sladky, Pack 446.






His Excellency
NICHOLAS DIMARZIO, DD PhDBISHOP OF BROOKLYN
AND
THE CATHOLIC COMMITTEE ON SCOUTING
Cordially invite you to
THE BISHOP'S DINNER FOR SCOUTING
Wednesday, October 19th, 2016
6:00 Cocktail Hour Reception / 7:00 - 9:00 Dinner and Awards Program
At
El Caribe Country Club
5945 Strickland AvenueBrooklyn, NY 11234

.2015 Quality Diocese Award
St. George Awards
Pelican Awards
Elizabeth Ann Seton & St. Ann Awards
And Presentationof the Bishop's Nicholas DiMarzio's
Good Scout Awards
---
CATHOLIC SCOUT RETREAT
" Jubilee Year of Divine Mercy"
For Catholic Scouting Youth, Parents and Guardians, Leaders, Clergy, Chaplains, Chaplain's Aides, Religious Emblem Coordinators, Award Counselors
Fri Eve November 4 - Sunday Afternoon November 6, 2016
Reeves Conference Facility, Alpine Scout Camp, N.J.
Paul D. Stanton, Committee Chair
718-438-4575
---
PROGRAM
---
FUN, FELLOWSHIP, FOOD AND CATHOLIC SPIRITUAL GROWTH AND RENEWAL OF FAITH
Youth: Introduction to Religious Emblem and Awards
Chaplain Aide - Training
Spiritual Growth and Faith Development Activities featuring Music and Art
Adults: Catholic Scouter Leadership Development
Religious Emblem Counselor Training
Virtus Youth Protection Training
Religious Emblem CoordinatorTraining
Spiritual and Faith Enhancing Activities
Unit Leadership and Family Team building Discussions
All: CATERED MEALS SERVED AT CUB WORLD DINING HALL BY CAMP ALPINE STAFF
Mass
Living Rosary
Ice Cream Social
Cost $35 per person for weekend Includes 4 Catered Meals, Emblem, and Retreat Materials
$20 for Saturday Only Program, including two Catered meals, emblem and materials
_________________________________________________________________________________
"This site is a social media channel of the Diocese of Brooklyn Catholic Committee on Scouting and is reflective only of our personal views, thoughts, and opinions. This site does not have any endorsement of the Boy Scouts of America, or Girl Scouts of America and it is not an official communication channel of the Boy Scouts of America or Girl Scouts of America"