Catholic Committee Meeting Dates in 2017
Wednesday, May 24th, 7:00 - 8:30 PM Immaculate Heart of Mary Church, 2805 Fort Hamilton Parkway, Brooklyn N.Y. 11218 - Marion Center (Rectory Bsmt.)
New members welcome - see link to the membership application.
Questions - Speak to our Chairman or one of our Chaplains.
---
---
YOUTH AWARDS CONVOCATION
Our Lady of Hope Church,
61-27 71st Street, Middle Village, Queens 11379

Sunday, April 30th, 2:00 -4:00 PM
Check-in 2:00 at Parking Lot (Weather Permitting)
Processon with Flags, Banners, Award Receipients 2:30
Awards Convocation 2:45 - 3:30
Reception for Clergy, Awardees, Families, Leaders, Emblem Counselors, CCOS members 3:30-4:00 School Cafeteria

Donations of baked goods, fruit, fruit drinks, bottled water, snack foods, for our post Convocation Awards Ceremony reception most welcomed.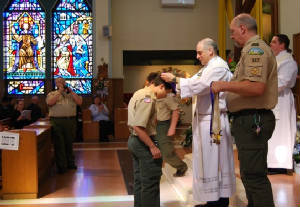 ---



2017

Annual Diocese of Brooklyn

Catholic Scout Retreat

" Living and Loving our Catholic Faith -

Putting Faith into Action"


Opportunity for Scouts, Parents and Leaders to experience God's wonderous love by spending a fun, spiritual weekend or day of renewal and reflection thru prayer and sharing of our faith and fellowship in the Scouting Catholic Youth Ministry.


October 13-15, 2017

Alpine Scout Camp, Alpine N.J.

Reeves Conference Center

Catered Meals at the Whitehead Dining Hall.


Boy and Girl Scout Units planning on attending for the Weekend are encouraged to reserve a Cabin, Leantos or a Tent Site near Reeves Lodge or the Cub World Dining Hall ASAP.

.

See our 2016 Year of Divine Mercy

Retreat Photo Gallery
---
This website is a social media site of the Catholic Committee on Scouting of the Diocese of Brooklyn. The views and information shared on this site do not have the official approval of the Girl Scout Council of Greater New York, or the Greater N.Y. Councils of the Boy Scouts of America. This website is linked to the National Catholic Committee on Scouting web sites of the BSA and National Federation of Catholic Youth Mininstry, Inc.