We help promote the Religious Emblem
Programs for Cub, Boy and Girl Scouts: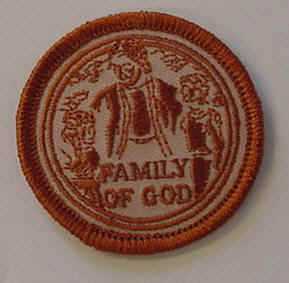 ---
How to Promote Catholic Youth Religious Emblems in your Unit ?
Youth members obtain the specific booklet for their religion. Check with the council store.
Each youth member will need his or her own booklet to document progress.
Some religions offer adult manuals for counselors and mentors.
Parents must review the program guidelines.
Some programs require participants to be official "members" of the religious institution.
Age/grade requirements vary from program to program.
Each program sets its own guidelines as to who may serve as counselor.
Some programs require clergy to serve as counselors;other programs allow parents or other family members to serve as counselors.
Families should talk to their religious leaders and show them the booklet before beginning any program.
Most programs require that they be completed under the auspices of that religious organization.
Many programs require the signature of the local religious leader.
The youth member needs to complete the requirements, obtain the proper signatures, and follow the instructions to order the emblem.
Some religious emblems require Scouts to complete a Diocesian Board of Review.
These emblems are not available for purchase from your local council store.
Completed Applications and $15. Fee for each youth Religious Award are mailed to the attention of the CCOSBQ Chairman.
Awards are presented by the Diocesan Committee on Scouting at the Annual Convocation.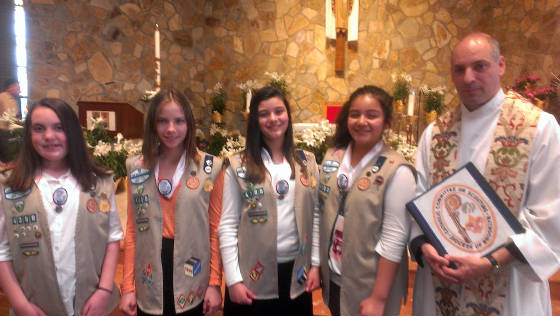 (St. Kevin Church Girl Scout Troop 4-388, Flushing, Queens N.Y. - Marian Awardees - At Convocation with Fr. Thomas Vassalotti, Diocesian Scout Chaplain)
For information on Catholic Religious Awards
or to become an Emblem Counselor Contact:
Mr. Christopher Dono, CCOSBQ Awards Chairman,
347-680-9944 (cell)